Oh My Dollar! turned 4 years old October 2020.
In 4 years Oh My Dollar! has gone from a hobby, to a part-time job, to a full-time job, and then back to a side hustle.
In 2020, I worked a full-time job all year plus another part-time job for 6 months. Because of this, Oh My Dollar! was my third priority, and it was more on autopilot than ever before.
But, the work I put in during the past 4 years (especially in 2019, when it was my full-time job) meant that it still generated money and I still was able to make content every week.
While I didn't make as much as I did in 2019 when I worked on the business full-time (2019 gross: $35,436), I worked significantly fewer hours on Oh My Dollar! this year. My – admittedly probably slightly incomplete – tracking records show I worked 587 hours on Oh My Dollar! this year, which works gross income of $36/hour. That includes everything – my time spent recording and editing the show, livestreaming, sending out patron rewards and challenge stickers, packing tea, accounting, speaking, writing scripts, conducting interviews with sources, and more.
Of course, I have a lot more expenses running a business compared to my day job working for someone else. After business expenses, my gross hourly wage came to $21.15 per hour, which is pretty close to my hourly wage at my current full-time job, and significantly more than my hourly wage at 99% of jobs I've ever had.
For a ~11 hours per week job, it's been a blessing to have the kind of income I've had this year. The wage goes down a bit after we evaluate how much I spend on taxes, but the reward for Oh My Dollar! comes not from the money but from the community, the content, and partnerships.
Gross Receipts + Sales: $21,451.65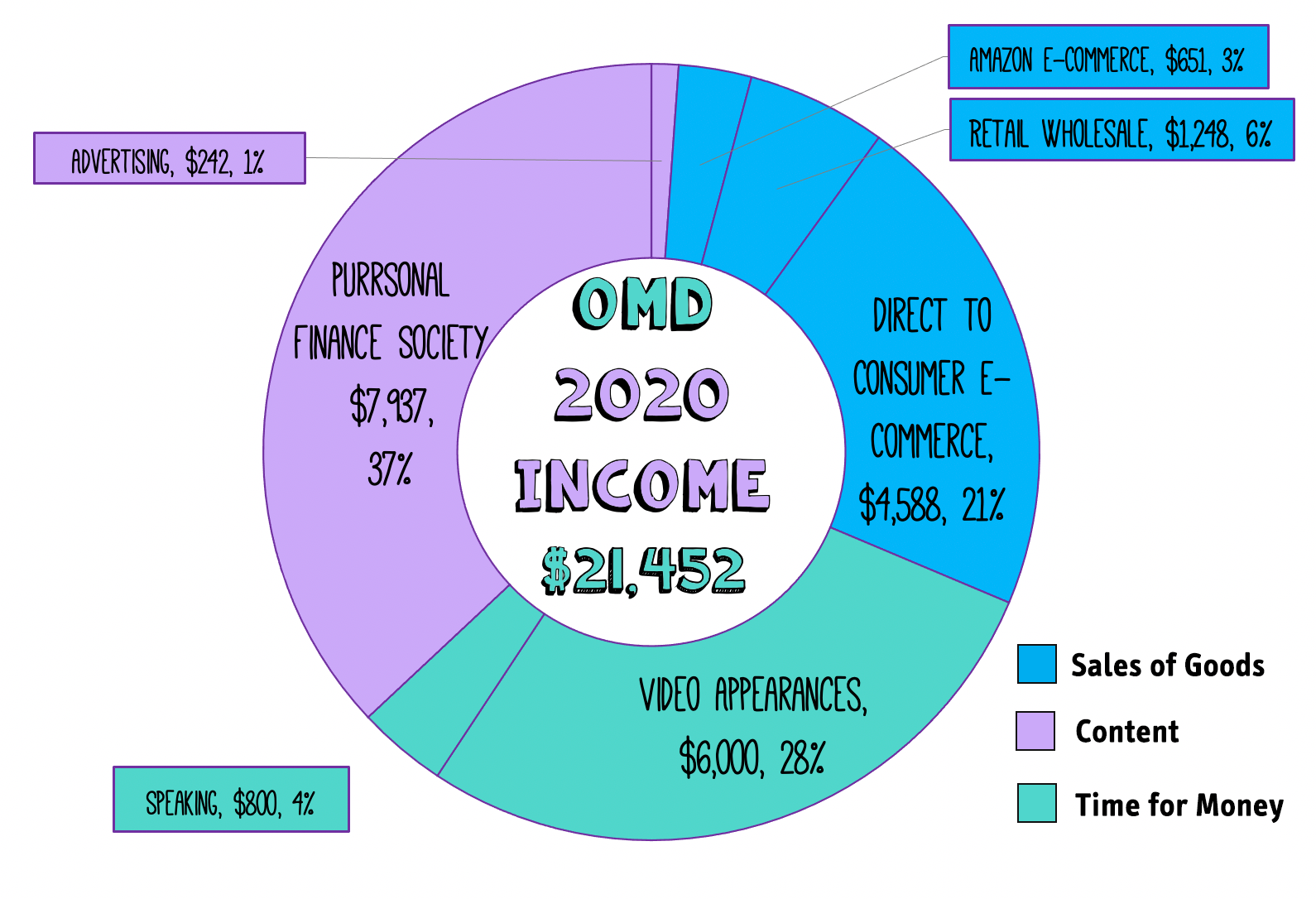 Sales of Physical Goods (40%)
Amazon Book + Kindle Sales (net after fees): $651
Shopify/Direct to Consumer Sales: $4,588
Retail Wholesale (Buyolympia): $1,248
Content (38%)
Time for Money (32%)
Video Appearances:  $6,000
Speaking: $800
Because my time was so limited this year since I was holding down two other jobs, I think it's interesting to look at the "buckets" of my income.
Usually, I would spend more time "trading time for money" in an average year – writing freelance newspaper/radio pieces, speaking, and doing media appearance work. In 2019, a good 15% of my income came from speaking engagements.
However, that fateful week in March 2020, I lost 5 speaking gigs in one single day. Speaking at conferences and on-campus at colleges and corporations is a thing of the before-times. It took until August for income from (now virtual) speaking gigs to return and at far lower rates than before.
While I think of producing content as my primary job, and it certainly takes up a good portion of my time (268 hours this year), overall content actually is only related to about 38% of my income.
The "content" income is my most passive income – but obviously, it isn't passive income, except for programmatic ads on my back catalog of content.  I put out a show 26 times a year, I livestream every week, and administer the very active forums that get about 250,000 pageviews a month. I also make sure to send out patron perks and challenge stickers.
My biggest issue this year was time. As I have proven before, Oh My Dollar! can be a full-time job, and trying to keep up the same level of content (and launching a new product line) while also working a full-time job, and another 15-hour a week job for 6 months – it was rough. I outsourced more work this year, but not nearly enough.
Because I had significantly less time available to devote to Oh My Dollar!, my overall income was lower than last year.  But because I didn't need to rely on Oh My Dollar! for my primary income, I was able to prioritize donating my ad revenue to Black-led GLBTQI+ organizations from June (and for the foreseeable future). I was able to experiment with a new product line. I paid myself $7,500 from Oh My Dollar! this year. I am extremely privileged to be able to make money from my side gig during a year where many people's income was lost.
Total Expenses: $9,048
Depreciable Equipment: $1,069
Audio Equipment: $386.43  – finishing home studio set up to broadcast during lockdown
iPad: $488.47 –  I plan to use it as a monitor/teleprompter and for lazy photo editing
Other Tech: $153.98 – assorted technical sundries
Heat Sealer: $39 – this is for preparation of bags of OMTea
Cost of Goods Sold: $1,075
Inventory of Tea, Books, Stickers, Mugs: $581*
*This is the cost-to-me of inventory purchased in the year 2020, most books and stickers sold this year were purchased in 2019. Since I follow cash-based accounting, not accrual, I do not put the retail cost of goods sold in these reports (though I do need to put it on my schedule C).
On-Shelf Packaging: $116
Shopify Software: $378
Shipping: $1,199
Shipping Supplies: $300
Postage: $899
Software and Hosting: $2,025.11
Hosting (Linode, Dreamhost): $483.17
Mailgun: $76.51
Adobe Creative Cloud: $405.88
Domains: $51.92
Sonix: $108.90
Other Software: $177.97
Storage + Backups: $132.76
Administration + Operating Expenses: $1,274.94
Insurance: $344
Commercial Kitchen Rental: $120 (For OMTea)
Licensing Fees: $58
Business Incorporation Annual Fee: $100
Meals: $209 (Mostly Donuts for Livestreams)
Office Supplies: $66.94
Mobile Phone – through Mint Mobile – $256
Media Subscriptions: $100 (Wall Street Journal and The Portland Mercury)
Professional Training: $129
Travel: $207
A plane ticket to a gig that didn't happen….now it's a travel credit.
Contractors: $900
Editor, Transcriptionist, and Artist.
Charity/Community: $552
Starting in June, I began donating 100% of advertising revenue (plus a bit more on top) from the radio show to GLBTQI+ black-led community organizations. 
Thanks to the Purrsonal Finance Society members and Pay It Furward donations, I was able to donate 217 books (and deliver with in-person and then virtual financial education) to low-income young adults.
It took about 5 months to figure out how to adapt Pay It Furward workshops to work in a virtual environment.  Pay It Furward workshops talk about money, which is a tough topic for a lot of people. The program has always relied on the social connection and familiarity that comes from serving low-income young adults through the day centers, shelters, and community organizations they already know.

Without the community partners in a familiar space, I'm just a random queer in a cool fit who tries to talk to them about credit scores. Additionally, a lot of the program participants have issues getting consistent internet access – which is part of why we rely on in-person workshops and physical books. But, now that financial stability is even more tenous for low-income youth, I was able to work with our community partners and pivot to delivering workshops remotely. I can't wait until I can get back in the spaces, though.
2020 Net Income:
$12,417
Tax Savings: $3,166
Lily's Salary: $7,503
You'll notice that Oh My Dollar! net income, minus taxes, is a bit higher than what I paid myself.
That's because I have about 60 days worth of business expenses – including increased contractor payments – set aside – as a buffer. I generally operate about one month ahead in my business expenses.
Goals for next year?
For 2021, my revenue goals include expanding blog and forum display advertising (vs audio advertising) and affiliate revenue. I would like to create more journalistic and how-to content (as opposed to opinion content). I would also like to finally monetize on Youtube, though my inability to create content that isn't livestreams is the big challenge here (let's rewind to "not enough time").
I would like to reach the $1,000/month threshold on Patreon by July 2021. As of writing, we're at $738 per month, and I think I can get to $1,000 per month, with more emphasis on the Purrsonal Finance Society during livestreams and by increasing the value of  exclusive Patreon perks.
Knowing how much is outside my control (cough 2020) I am mostly focusing on actions rather than outcomes.
Continue donating to Black-led GLBTQI+ charities every month
Deliver 6 Pay It Furward workshops
Donate 200 books via Pay It Furward
Begin running advertising on Oh My Dollar! forums in a way consistent with the values of the community
Hire help for content production (editor)
Increase social media consistency for OMD
Set up streamlined on-boarding processes for Purrsonal Finance Society
Begin automatic tracking for Purrsonal Finance Society Member anniversaries (and send anniversary stickers)
Fix quote CSS on Oh My Dollar! blog
Post money diaries on OMD blog
SEO optimize transcripts
Begin using Pinterest for business
Write a new pitch to publishers for 2nd book
Send two newsletters a month
Decrease recurring expenses for Oh My Dollar! software
Do outbound sales for podcast sponsorship with brands directly
Investigate going with a co-packer for Purrbon
Okay…but those aren't actual number goals
Okay, well, if I really have to have some monetary goals they are:
Increase the percentage of income from affiliate sales – I currently mostly receive lower costs on software I already use from my sparing use of affiliate links (Convertkit, Mint Mobile, YNAB) but in 2021, I will be updating affiliate links on the forum and increasing the high-value affiliates (like credit cards rewards) I trust to work with.
Earn $500 a month from display advertising on the OMD forums
Increase Patreon to $1000 per month by July 2021
Get monetized on Youtube (requires 486 more subscribers and 1.5K more hours of watch time)
---